A MUST SEE EVENT!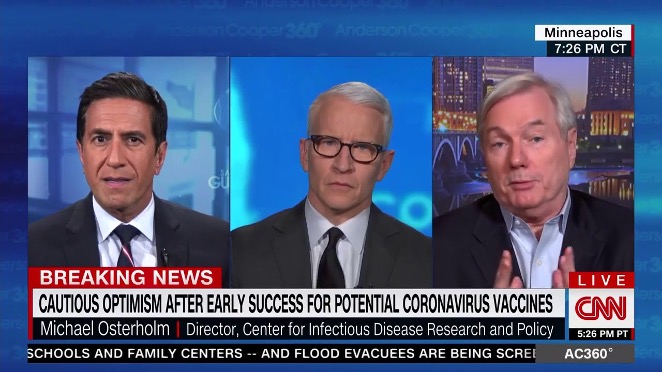 Watch Dr. Osterholm video!
He answered Anderson Cooper's questions. Now he can answer yours.
Thursday, November 18, 2021 from 6:30 pm - 7:30 pm
Join us online to honor Minnesota's own (now world-famous) Dr. Michael Osterholm as ARCS Minnesota Chapter's "Scientist of the Year."
Michael T. Osterholm PhD, MPH, is Regents Professor, McKnight Presidential Endowed Chair in Public Health, the director of the Center for Infectious Disease Research and Policy (CIDRAP) and a Distinguished Teaching Professor in the Division of Environmental Health Sciences, School of Public Health.
This is a unique opportunity to hear directly from Dr. Osterholm and to find out up-to-date COVID-19 information.
This is our major fundraising event of the year. All registration donations are tax deductible and will go to our Scholar Award Fund for next year's ARCS Minnesota Scholars.
Why Donate?
ARCS Foundation Minnesota fosters the national goal of Advancing Science by supporting the best of our nation's STEM graduate students.
When you make a contribution to the ARCS Scholar Award Fund, 100 percent of your contribution goes directly to top students at the University of Minnesota without any deductions for overhead.
November 18th, 2021 6:30 PM through 7:30 PM
| | |
| --- | --- |
| Scholar Fund Supporter (tax deductible) | $ 75.00 |
| Scholar Fund Sustainer (tax deductible) | $ 100.00 |
| Friend of ARCS Minnesota (tax deductible) | $ 250.00 |
| ARCS members, guests and students | $ 0.00 |